Helsinki Airport (HEL)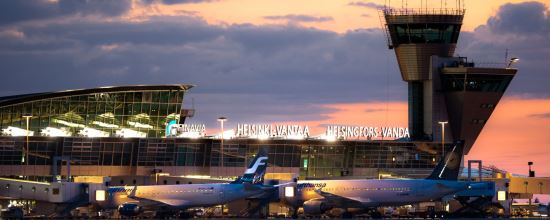 Book your reliable, low-cost, door-to-door Helsinki Airport transfer to hotels, holiday villas, holiday apartments or private addresses. The airport transfers are carried out with a modern fleet of fully licensed and insured taxis, minivans, minibuses and coaches. Your driver will take you from the airport right to your accommodation address and back to the airport in comfort and safety, at the lowest price.
PLEASE NOTE:
- upon arrival at Helsinki Airport please look for your driver, who will hold a personal waiting sign with your name on it
- if you did not pay in advance for your airport taxi transfer, please pay to the driver with the local currency (Euro)
See thousands of passenger reviews.
Helsinki (Swedish: Helsingfors) is the capital of Finland. Helsinki, founded in 1550 by King Gustav Vasa of Sweden, has been the Finnish capital since 1812. The tsars of Russia rebuilt the city in the style of a small St. Petersburg. Many Cold War movies were filmed in Helsinki, as during those times the Soviet Union did not allow filmmakers to make their movies in St. Petersburg. Helsinki is an interesting mix of an international, multicultural metropolis, while it still has a touch of a small town.
All international and domestic flights land at Helsinki-Vantaa International Airport (IATA: HEL). The airport is located in Vantaa, appr. 20 kilometers (30 minutes ride) to the north of the central Helsinki. The airport is a hub for the Finnish flag carrier airline, the Finnair. It serves as a base also for Blue1, Norwegian Air Shuttle and Flybe Nordic.
transfers2airports.com offers a low cost airport transfer and taxi service from and to Helsinki Airport. All prices include the meet&greet service in the arrival area, where your driver will wait you with a distinctly visible name card. You can book transfers with cars, minibuses and coaches to/from any destinations in Finland. The most popular ones are Helsinki, Espoo, Vantaa, Pori, Tampere, Turku and Lappeenranta. If you cannot find the destination you need, just contact us.
Helsinki-Vantaa (originally built for the Summer Olympics, 1952) is an important transfer airport between Europe and Asia (Bangkok, Beijing, Delhi, Hong-Kong, Nagoya, Osaka, Seoul, Tokio etc.). It also has trans-atlantic flights (New York). Due to the characteristics of the Globe Helsinki Airport offers shorter and faster flights between Asia and Europe. Passengers feel themselves comfortable at this compact and uncrowded airport, where all the gates and services are located under one roof, in one terminal building. The airport has been constructed particularly for transferring between Asian and European flights. The airport is usually recorded as one of the most efficient airports. Waiting times are significantly less than in other European airports.
Passport control is very efficient because EU, Scandinavia, Switzerland, Japan and South Korea citizens with biometric passports can use the airport's convenient automatic border control machines.
The airport has extensive services and shopping possibilities, free wi-fi, hotels and conference rooms.
The airport is nominally divided into two terminals, 250 metres apart from each other. These terminals are connected by an internal pedestrian connection both airside and landside. But practically the airside parts of the terminal buildings are divided into Schengen and non-Schengen areas instead of Terminal 1 (the former domestic terminal) and Terminal 2 (the former international terminal). The non-Schengen area of Terminal 2 was extended in 2009 enabling the airport to host eight wide-body aircraft at gates simultaneously. The capacity of the airport is approximately 16–17 million passengers in a year.
In 2013 expansions plans was announced by Finavia to serve up to 20 million passenger by 2020. The construction began in 2014 with the aim to extend the capacity of the check-in and transit areas at Terminal 2.
In 2014, Helsinki airport introduced the world's first passenger tracking system, which automatically monitors crowd congestion and prevents bottlenecks at the two-terminal airport.
The airport has three runways that makes future growth possible while the airport can accommodate wide-body aircraft such as the Airbus A340.
Available destinations from Helsinki Airport (HEL)