Madeira Airport (FNC)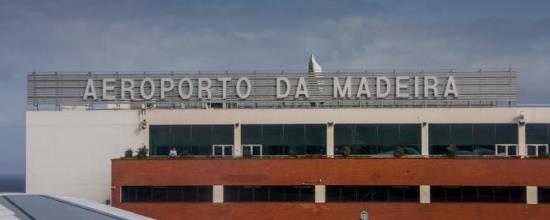 Madeira Airport
Madeira International Airport Cristiano Ronaldo, commonly known as Madeira Airport, or Funchal Airport, is an international airport in the civil parish of Santa Cruz in the Portuguese archipelago and autonomous region of Madeira. The airport is located at 13.2 kilometers east-northeast of the regional capital Funchal after which it is sometimes informally named. It mostly hosts flights to European metropolitan destinations due to the importance of Madeira as a leisure destination, and is pivotal in the movement of cargo in and out of the archipelago of Madeira. It is the fourth busiest airport in Portugal and is named after Madeiran football player Cristiano Ronaldo.
The airport is considered one of the most peculiarly perilous airports in the world due to its location and its spectacular runway construction and requires the pilots to undergo a special training in order to land the aircrafts here.
Airport Terminals and Airlines
The airport has one medium-sized and modern terminal, with a great view of the sea. Known for its unique design, the airport has been built partially into the volcanic island and features a runway over the ocean.
It is served by the following airlines: Aigle Azur, Air Nostrum, Austrian, Azores Airlines, Binter, British Airways, Brussels Airlines, Condor, EasyJet, Edelweiss, Enter Air, Eurowings, Finnair, Germania, Jetair, FlyJet2.com, Lufthansa, Luxair, Norwegian Air, SAS, TAP Portugal, Thomas Cook Airlines, Transavia, Travel Service, TUI Fly and Vueling.
Airport Services and Facilities
Amenities at the Madeira Airport include several shops and eateries, though none of them are open 24 hours. Duty-free shopping is available on 3 locations airside and operates from 7:30AM to 11:00 PM. In addition, a variety of retail shops and boutiques are available throughout the airport including 3 Relay News Shops, so if you have a bit of time, you can do some last minute shopping.
Food concessions throughout the airport operate with varying schedules with many that open between 5:00 AM and 7:00 AM, closing around 10:00 PM or 11:00 PM. Food options include: Buondi Caffe, Clocks, Cockpit, Gelati di Chef, Go To Café, Pizza Hut, Saudade Madeira Café, Specially, Starbucks and others, guaranteeing to suit the cravings of every traveler.
If you need to handle your cash, ATMs are available at multiple locations. Located landside, Unicâmbio offers currency exchange, Western Union, VAT tax refunds, and more. Free Wi-Fi helps to pass the time, so just connect to the "VINCI Airports wifi" network. For added comfort while you wait, economy class passengers can pay to enter a few airport lounges. Urgent and emergency medical care is available in the First Aid station located landside. Baby change facilities are available in several washrooms throughout the airport. The airport works in partnership with MyWay to provide personalized support for passengers with reduced mobility. Services include lifts, escalators, moving walkways, signage and professional support for those who book at least 48 hours in advance.
If you plan to spend the night at this airport, do note that none of the shops and eateries are open for 24 hours. Overnight sleepers can expect things to quiet down around 10:00PM. Seating is plentiful but equipped with armrests, so consider packing a sleeping bag or travel mat for spreading out on the floor. For uninterrupted sleep, nearby hotels are available, so you may want to book a room in advance.
Ground Transportation
The company responsible for bus transportation from the airport is SAM. After you leave the arrivals hall, follow the main road and keep on the right-hand side. Only a few meters away, you will find a bus stop. The lines that stop here are 20, 23, 53, 113 and 208, depending on the time of the day. You can also opt to travel from the airport to your destination by Aero-bus, a frequent express bus service between the airport and Funchal city.
In addition to this public transportation option (or perhaps paying for a taxi service), you can also book a reliable door-to-door private transportation with UpTransfers, carried out with a modern fleet of fully licensed and insured vehicles, and be welcomed at the airport by an English-speaking driver - an excellent choice for traveling with style.
Book your reliable, low-cost, door-to-door Madeira Airport transfer to hotels, holiday villas, holiday apartments or private addresses. The airport transfers are carried out with a modern fleet of fully licensed and insured taxis, minivans, minibuses and coaches. Your driver will take you from the airport right to your accommodation address and back to the airport in comfort and safety, at the lowest price.
PLEASE NOTE:
- upon arrival at Madeira Airport please look for your driver, who will hold a personal waiting sign with your name on it
- if you did not pay in advance for your airport taxi transfer, please pay to the driver with the local currency (Euro)
See thousands of passenger reviews.
Available destinations from Madeira Airport (FNC)