Madrid Airport (MAD)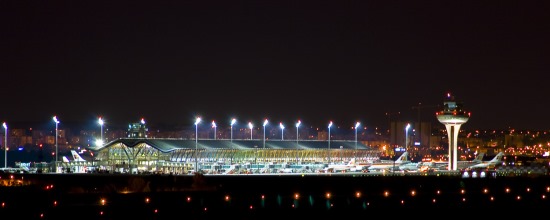 Madrid Airport
Adolfo Suárez Madrid–Barajas Airport, commonly known as Madrid–Barajas Airport, is the main international airport serving Madrid in Spain. At 3,050 ha in area, it is the second largest airport in Europe by physical size behind Paris–Charles de Gaulle Airport. In 2018, 57.9 million passengers used Madrid–Barajas, making it the country's largest and busiest airport and Europe's sixth busiest. Originally, the name of Madrid Airport was Madrid-Barajas Airport, but in 2014 it was renamed to Adolfo Suárez Madrid-Barajas Airport, as a recognition to the former Spanish Prime Minister Adolfo Suárez, the first democratic Prime Minister after the dictature of Francisco Franco. The airport opened in 1928, and has grown to be one of the most important aviation centers of Europe. Located within the city limits of Madrid, it is just 9 km from the city's financial district and 13 km northeast Madrid's historic center. Barajas serves as the gateway to the Iberian Peninsula from the rest of Europe and the world, and is a particularly key link between Europe and Latin America. The airport is the primary hub and maintenance base for Iberia.
Airport Terminals and Airlines
The airport has five passenger terminals named T1, T2, T3, T4 and T4S. There's a huge number of airlines operating at this airport, catering for an astonishing number of domestic and international destinations, both regular and seasonal. Some of the main airlines are Iberia, Air Europa, Ryanair, Norwegian, Iberia Express and many others.
Airport Services and Facilities
Madrid Barajas Airport is blessed with a fantastic selection of shops for the travelling shopper. Les Boutiques, Thinking Espana and Fashion Fun are some of the retail stores based in terminal 1. There are a few stores in terminal 2 including Lafiore, Aldeasa and The Express Shop. Multiopticas, Les Boutiques and Relay have operations alongside other retailers in terminal 3. Of the four terminal buildings, terminal 4 has the largest selection of retail outlets. Puma, Tous Rolex, Zara and Carolina Herrera are some of the companies who have operations in this terminal. Terminal 4 Satellite has a number of convenience stores and fashion shops, including Les Boutiques and Fashion and Fun. Spain's largest airport is home to a suitably wide choice of catering outlets offering domestic and international cuisine. Throughout the terminals you can enjoy hot plates, coffees, beers and wines, snacks, sandwiches, tapas, fast food and much more in the numerous restaurants, bars, bistros and snack corners. Two major banks operate from Madrid Barajas and there are cash machines (ATMs) and currency exchange bureaus in all the terminals. BBVA and Caja Madrid both have branches in Terminal 2 and Terminal 4. 24 hour medical centers are located in Terminals 2, 4 and 4S, and pharmacies are available at every terminal. The airport has Wi-Fi throughout. There are also several internet stations located around the terminals, with some including a printer. There is a large, multi-functional and modern business center on-site at Madrid Barajas International Airport's Terminal Four. Its facilities include two formal waiting lounges as well as meeting rooms. Other services available include a courier service, fax service, printing and photocopying. Working breakfasts and lunches can be arranged and there is a relaxation area with a selection of newspapers, mobile recharging stations, internet workstations and a hydro massage shower. Each Terminal at Madrid Barajas has a lounge, available to access with a Priority Pass membership.
Ground Transportation
The Madrid Metro Line connects the airport with city center station Nuevos Ministerios in Madrid's financial district. The Barajas Line 8 provides a fast route from the underground stations at Terminal 2 (access to T1 and T3) and Terminal 4 into central Madrid. The single Cercanías Line (C-1) links Madrid Barajas Terminal 4, with Chamartín Station and Atocha AVE high-speed train stations. EMT (Madrid Municipal Transport Company) runs regular public bus services between the airport and Madrid (Avenida de América station) via several lines. In addition to these public transportation option (or perhaps paying for a taxi service), you can also book a reliable door-to-door private transportation with UpTransfers, carried out with a modern fleet of fully licensed and insured vehicles, and be welcomed at the airport by an English-speaking driver - an excellent choice for traveling with style. Book your reliable, low-cost, door-to-door Madrid Barajas Airport transfer to hotels, holiday villas, holiday apartments or private addresses. The airport transfers are carried out with a modern fleet of fully licensed and insured taxis, minivans, minibuses and coaches. Your driver will take you from the airport right to your accommodation address and back to the airport in comfort and safety, at the lowest price.
PLEASE NOTE:
- upon arrival at Madrid Barajas Airport please look for your driver, who will hold a personal waiting sign with your name on it
- if you did not pay in advance for your airport taxi transfer, please pay to the driver with the local currency (Euro)
See thousands of passenger reviews.
Available destinations from Madrid Airport (MAD)