Venice Treviso Airport (TSF)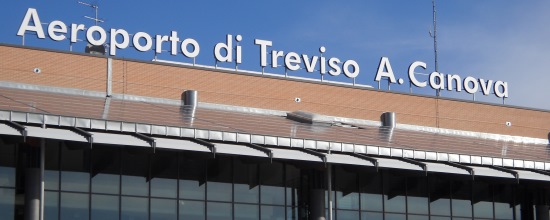 Treviso Airport
Treviso Airport, or Aeroporto di Treviso A. Canova, is an international airport located at 3.0 km west-southwest of Treviso and approximately 31 km away from the city of Venice, Italy. It is mainly used by low-cost airlines. Some airlines refer to the airport unofficially as "Venice-Treviso" or similar despite its actual name - however, the primary airport of Venice is Venice Marco Polo Airport.
Airport Terminals and Airlines
The large barn-like terminal building was built to accommodate the busy schedule of low-cost flights. It has a massive first-floor departures hall, although the architects were criticized for overlooking the airport's primary function. Departure gates, seemingly an afterthought, are clustered around stairwells with no space for queueing and only a handful of seats. Luckily, the terminal is clean and pretty functional.
The following airlines operate regular scheduled and charter flights at Treviso Airport: Laudamotion, Pobeda, Ryanair and Wizz Air.

Airport Services and Facilities
There are basic services and facilities at this airport, sufficient to accommodate the passengers' needs. The best place to eat is upstairs in the departures area, before security. Next to the check-in area is a decent self-service bar-cafeteria where you can buy hot or cold drinks, toasted rolls, slices of pizza and pasta (it closes around 9 pm). Pay at the cash till before ordering at the counter. It's quite a pleasant place to sit, with views over the road towards the mountains beyond. There's also a small shop selling books, newspapers and souvenirs - a better choice of these than you'll find after the security barrier.
After security, you'll find a typical airport duty-free shop, selling perfumes, alcohol and pricey foodstuffs. There are also small shops selling clothes, health and beauty product, not-terribly-interesting gifts, Italian football souvenirs and luggage. There is another bar with a few tables offering drinks and light snacks (rolls and cakes). There is a decent amount of seating on the first-floor level, although once you descend to the departure gates you'll find less comfort. Toilets can be found both before and after security. Shops and restaurants close at night, so it is a good idea to have snacks and beverages handy for later if you plan to stay.
Veneto Banca is located landside, First Floor and cash withdrawals are available here. The airport also has ATMs and a currency exchange service. Free Wi-Fi is available at Venice Treviso Airport and mobile charging stations can be found landside and airside, on the 1st Floor. Medical Emergency Room is located on the Ground Floor, left side of the Terminal.
This airport officially opens at 6 AM, and you may encounter freezing temperatures inside the terminal, due to the airport shutting off the heat at night, and hard, uncomfortable metal seats with armrests. A sleeping bag or travel mat and blanket are a must for warmth and comfort while you sleep here.
Overnight stays are allowed, but the airport closes and locks its terminal at 11:00PM, which means no passengers are allowed to enter or exit the building. If you plan to spend the night, arrive at the airport before it closes for the night. For uninterrupted sleep, there are hotels near the airport, so booking a room in advance is a good idea.

Ground Transportation
A public bus service, operated by Mobilità di Marca, connects the airport with the railway station (the Treviso Centrale railway station) in the center of Treviso. Another bus service, connecting with flights for Wizz Air and Ryanair, operated by BARZI BUS SERVICE, reaches Venice in 40 minutes by highway. Further coach connections are available from the airport or from the city center of Treviso. Daily coach service operated by DRD to Ljubljana (Slovenia) via Venice Marco Polo Airport (Venice) and Friuli Venezia Giulia Airport (Trieste) is also available. A public coach vice versa service from Treviso to Padua is operated by Busitalia.
In addition to the public transportation options (or perhaps paying for a taxi service), you can also book a reliable door-to-door private transportation with UpTransfers, carried out with a modern fleet of fully licensed and insured vehicles, and be welcomed at the airport by an English-speaking driver - an excellent choice for traveling with style. Book your reliable, low-cost, door-to-door Venice Treviso Airport transfer to hotels, holiday villas, holiday apartments or private addresses. The airport transfers are carried out with a modern fleet of fully licensed and insured taxis, minivans, minibuses and coaches. Your driver will take you from the airport right to your accommodation address and back to the airport in comfort and safety, at the lowest price.
PLEASE NOTE:
- upon arrival at Venice Treviso Airport please look for your driver, who will hold a personal waiting sign with your name on it
- if you did not pay in advance for your airport taxi transfer, please pay to the driver with the local currency
See thousands of passenger reviews.
Available destinations from Venice Treviso Airport (TSF)