Zadar Airport (ZAD)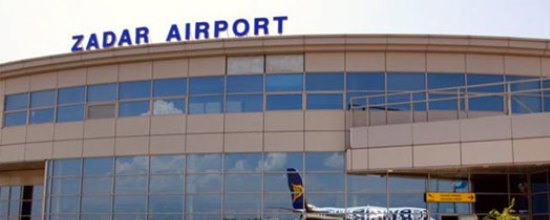 Zadar Airport
The Zadar Airport is a small airport in Croatia. It is located south-east of the city. From Zadar follow the D424 towards Split and take exit Babindub to arrive at the airport (Zračna luka). It is located in Zemunik Donji, 8 km from the center of Zadar, and it represents a vital connection of northern Dalmatia and Lika to the rest of Croatia and the World. Croatia Airlines - the national airline company, a member of the Star Alliance airlines association, links Croatia by direct flights to a number of European destinations.
Ryanair has a base at the airport since 2013, the low-cost airline that offers the most connections to and from Zadar Airport. The airport will be modernized in the coming years to meet the growing passenger numbers. Zadar Airport will extend one of the two runways by 700 meters and expand the terminal.
Airport Terminals and Airlines
Zadar Airport is a relatively small airport with two runways and one modern terminal. The terminal is divided into a Departures hall and a small Arrivals hall. As of March 2019, Zadar Airport is served by the following airlines: Croatia Air, easyJet, Eurowings, Lufthansa, Ryanair, Vueling and LOT.
Airport Services and Facilities
At the Duty Free & Travel Value Shop, all passengers that travel in EU countries and countries outside of the EU, can now buy products at duty free prices. Passengers that travel in EU countries now can buy bigger quantities (4 box of cigarettes, 200 cigars, 10 l of spirits, 60 l of wine etc.). Here you can find products of famous fashion brands like Chanel, Armani, Gucci, Bvlgari, Guess etc., and you can also find products of world famous spirits (Glenfiddich, Glenmorangie, Chivas, Jonnie Walker etc.), watches (Tag Heuer, Fossil, Festina, Rotary, Aviator, Luminox etc.), jewels and lots of other goods.
One part of the Duty Free & Travel Value Shop is a regional shop, where you can find Croatian and regional products like top quality Croatian olive oil, cheese, prosciutto ham and lots of other Croatian delicacies.
If you would like some refreshments before the flight or after shopping, a daily newspaper for the trip or a cup of good coffee in a pleasant company, snack bar Sunset is the right place for you. There you can also purchase telephone cards for the public phone, cigarettes, fresh sandwiches and cakes. The Zadar Airport restaurant is at your disposal if you want a hearty and tasty meal. The passengers on international flights may also use the snack bar located in the international departure area in the vicinity of the Duty Free Shop.
You can make all your bank transactions and currency exchanges in the office of the OTP Bank which is located in the passenger building of Zadar Airport. An ATM machine located in the passage to the right of the check-in counter is also available to you if you need cash.
The airport is open between the hours of 6:00 AM and 10:00 PM. However, in addition, the airport is open 24 hours "on request", depending on season and flights.Zadar Airport now offers to all its customers the service of free wireless Internet access (Free WiFi HotSpot). The system enables the passengers to have access to Internet from any part of the airport.
Ground Transportation
For Croatia Airlines flights, Zadar Airport provides transportation by buses of the public transportation company Liburnija, from the city of Zadar to Zadar Airport and from Zadar Airport to the city of Zadar. The buses from Zadar depart one hour before takeoff. The bus stop is located on Liburnska obala not far from the Croatia Airlines agency. At Zadar Airport, the bus stop is located next to the main building exit (or entrance).
In addition to this public transportation option (or perhaps paying for a taxi service), you can also book a reliable door-to-door private transportation with UpTransfers, carried out with a modern fleet of fully licensed and insured vehicles, and be welcomed at the airport by an English-speaking driver - an excellent choice for traveling with style.
Book your reliable, low-cost, door-to-door Zadar Airport transfer to hotels, holiday villas, holiday apartments or private addresses. The airport transfers are carried out with a modern fleet of fully licensed and insured taxis, minivans, minibuses and coaches. Your driver will take you from the airport right to your accommodation address and back to the airport in comfort and safety, at the lowest price.
PLEASE NOTE:
- upon arrival at Zadar Airport please look for your driver, who will hold a personal waiting sign with your name on it
- if you did not pay in advance for your airport taxi transfer, please pay to the driver with the local currency or Euro
See thousands of passenger reviews.
Available destinations from Zadar Airport (ZAD)