Zagreb Airport (ZAG)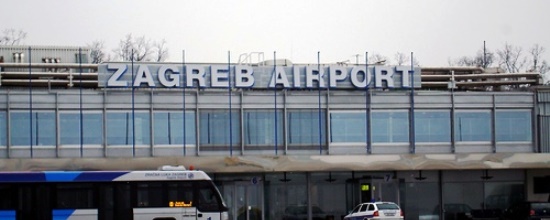 Zagreb Airport
Zagreb Airport is the largest and busiest international airport in Croatia. In 2018 it handled around 3.4 million passengers and some 13,500 tons of cargo. Named after Franjo Tuđman, the first President of Croatia, the airport is located at 10 kilometers south-east of Zagreb Central Station in Velika Gorica. It is the hub of the Croatian flag carrier Croatia Airlines and a focus city for Trade Air. The main base of the Croatian Air Force is also located at the airport´s premises. Moreover, the Croatian Air Traffic Control has its administration situated on the grounds of the airport.
Airport Terminals and Airlines
The current terminal building stretches over 65,800 m2 on three levels, featuring three baggage carousels, 8 air bridges, 9 security checkpoints, 30 check-in desks, 23 passport control booths and a car park with the capacity of 1,100 vehicles. Furthermore, the new apron has three remote stands next to the terminal, while 23 stands at the old passenger building are also used during the peak season.
As of March 2019, Zagreb airport is served by the following airlines: Aeroflot, Aegean, Air Canada Rouge, Air France, Air Serbia, Air Transat, Austrian Airlines, British Airways, Brussels Airlines, Croatia Airlines, Czech Airlines, El Al AI Israel Airlines, Emirates, Eurowings, Iberia, KLM, Korean Air, LOT, Lufthansa, Norwegian, Qatar Airways, Sun d'Or, Swiss, Trade Air, Turkish Airlines and Vueling.
Airport Services and Facilities
The terminal itself features a large 600 square meter duty-free shop operated by Aelia, 16 cafés, bars, restaurants and snack bars. Aelia duty free spans over 500 m2, designed to provide a unique experience of glamor, pleasure and superior service. Offering 9000 of the most prestigious international products of brands such as Chanel, Dior, Hermès, YSL, Guerlain are some of the strongest Croatian brands: Natura, Aura, Bioaromatics, Stella Mediteranea and Karst. The new concept is also enriched with exclusive brands such as Godiva, Benefit, Smash Box and Bare minerals. Sense of Placeis an interactive space that offers travelers the opportunity to taste the most famous delicacies that Croatia has to offer, from the finest selected wines, award-winning olive oils to the powerful flavors of truffles and handmade sweets.
From Designers With Love is a carefully conceived concept that represents the product selection of some fifty Croatian designers and artists in order to support a vibrant and growing local creative community. Print Media is a chain of multimedia bookstores in exclusively decorated spaces. It offers a wide range of magazines, books, technology and giftware. Tisak dd is the largest retailer of kiosks and a leading distributor of printed matter, tobacco products, prepaid vouchers and start packages for telecom operators and other products. The Fashion Place is an attractively designed conceptual store where a unique shopping experience awaits customers. Apparel, fashion accessories and jewelry from favorite brands in the 180 square meter store can be found at 20 percent lower prices.
If you get a little hungry, this airport has a decent offer of places where you can enjoy a nice meal. From coffee spots, to baked goods and pasties, to local dishes paired with tasty beer and sandwiches on the go, this airport has all the basics you need.
This airport has a free Wi-Fi and a Business lounge in case you wish to relax. ATMs and Currency exchange office are also available here. If you happen to travel with children, do note that convenient facilities are also at your disposal.
Ground Transportation
The company "Pleso prijevoz dd" is the official carrier on the line from Franjo Tudjman Airport to the Main Bus Station in Zagreb. The bus timetable is adjusted to the flight schedule of the aircraft.
Zagreb Electric Tramway (ZET) has introduced a new bus line, which has been operating since March, 2017. On a 19-kilometer route, the bus passes through two tariff zones and stops at 20 bus stops. Departures are scheduled at every 35 minutes.
In addition to this public transportation option (or perhaps paying for a taxi service), you can also book a reliable door-to-door private transportation with UpTransfers, carried out with a modern fleet of fully licensed and insured vehicles, and be welcomed at the airport by an English-speaking driver - an excellent choice for traveling with style.
Book your reliable, low-cost, door-to-door Zagreb Airport transfer to hotels, holiday villas, holiday apartments or private addresses. The airport transfers are carried out with a modern fleet of fully licensed and insured taxis, minivans, minibuses and coaches. Your driver will take you from the airport right to your accommodation address and back to the airport in comfort and safety, at the lowest price.
PLEASE NOTE:
- upon arrival at Zagreb Airport please look for your driver, who will hold a personal waiting sign with your name on it
- if you did not pay in advance for your airport taxi transfer, please pay to the driver with the local currency or Euro
See thousands of passenger reviews.
Available destinations from Zagreb Airport (ZAG)